April genomic results of Holstein sires according to gSIH
12.04.2019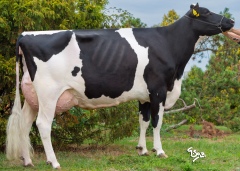 According to the April proofs, especially bulls having Balisto (USA) in the pedigree are in lead. Even though Balisto has got only one daughter (from imported embryo) in CZE, his interbull recalculation confirms his strongest advantages: high solids. There is remaining son of Silver, Semino, whose doses have been imported from Germany, as TOP 1. Second is Supercup, also German sire. Both two sires have got Balisto as a dam grandsire. We can see ZETOR, bull from Natural, as TOP 3) (gSIH 147,9. He is the highest bull from Czech AI centre on the list. His father is Silverīs son, Simba, and dam grandsire is Battlecry (son of Balisto).
Unfortunatelly, Zetorīs dam died before calving, therefore we do not have got her performance test results. However in the maternal line of her pedigree, we can see excellent cows from Southland Dellia family: VG 86 Shottglass x VG 86 Man-O-Man x VG 87 Roumare x VG 87 Shottle x EX 90 Adam. Zetor is a strong improver of milk solids and of type. We do not see any weakness in his proofs and it is why we currently use him as a sire of sons.

ZOLOGRAM P, another bull from Natural is very close behind Zetor, on fourth place with gSIH 147,2. He is the best polled genomic Holstein in the Czech Republic! Zologram P comes from combination Hologram (Monterey) x Balisto. His dam is backed by deep, originally US dam of sons family - Briarpatch-R Misty. World-wide famous Robust or new daghter proven sire of sons Jedi as well as well known sire of sons AltaSpring come from the same family.
Zologram P has also got excellent genomic results in Germany (RZG 158).

Ostretin Attila, another sire from Natural, is new on the list.
Coming from combination Eldorado (po Mogul) x Mardi Grass (po Mogul), Attila has got fantastic mother. Ostretin Loriotka 23 has got excellent type (scored VG 88), amazing milk production 2. 305 15,992 2.97 3.50 and fitness. Her dam granddam is a top daghter of Czech legendary sire Erotic and one of few Czech cows scored "excellent", Ostretin Loriotka 12 EX 91. The whole family is famous for its milk production and it is also the main advantage of Attila. There is not Balisto in his pedigree.