Cordination and technical assistantion of the project "Development of beef cattle breeding system in Bosnia and Herzegovina"
03.04.2014, zbn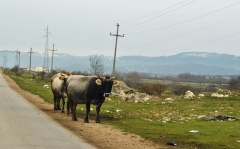 Natural started cooperatation in the project implementation in autum 2013. Together with Czech Univesity of Life science, as a leader of implementation team, and Czech Beef Breeders Association, our tasks are to provide assistence the Bosnian government and breedrs in establishing of beef breeding system in the country and to educate and train them in relative topics. The project has been fund by Czech Development Agency from programe of Czech Development Cooperation.
Bosnia and Herzegovina belongs to the countries suffering from low standard of living and fragmentation of government from the end of Yugoslavia War. Over 20 % of population work directly in agriculture sector and many other people, especially in countryside, improve their income by running their small farms. There is strong demand for beef in Bosnia and Hercegovina, which significant part is being covered by imports from neighbouring countries. The project shall help the country to improve the self-sufficiency in beef production along with relatied legislation establishment.